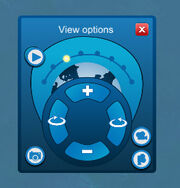 In the View Options Menu you can individually select 1 of 9 Day/Night cycle views being 6am, 9am, Midday (default view), 3pm, 6pm, 9pm, Midnight & 3am or you can select it to auto cycle through each one by clicking the Activate Day/Night Cycle button.
You can also Zoom In/Out clicking the + or - buttons or rotate left/right using the rotation buttons. Or alternatively use your mouse or keyboard keys to do the same.
The other 3 buttons are for taking a screenshot (alternative F11), Post Card View & Camera View (default view)
Ad blocker interference detected!
Wikia is a free-to-use site that makes money from advertising. We have a modified experience for viewers using ad blockers

Wikia is not accessible if you've made further modifications. Remove the custom ad blocker rule(s) and the page will load as expected.