St Volodymyr's Cathedral

Unlock requirements

Population of 250,000
This is a
Landmark
church in Cities XL.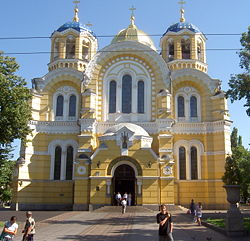 St Volodymyr's Cathedral (Ukrainian: Патріарший кафедральний собор св. Володимира, Russian: Кафедральный собор Святого Владимира, Владимирский собор; also known as the Volodymyrsky Cathedral, Vladimirsky Cathedral, or St. Vladimir's Cathedral) is a cathedral in the centre of Kiev. It is one of the city's major landmarks and the mother cathedral of the Ukrainian Orthodox Church - Kiev Patriarchy, one of two major Ukrainian Orthodox Churches.[1]
Official website (Russian):
http://sobory.ru/article/index.html?object=01026
---
References
Ad blocker interference detected!
Wikia is a free-to-use site that makes money from advertising. We have a modified experience for viewers using ad blockers

Wikia is not accessible if you've made further modifications. Remove the custom ad blocker rule(s) and the page will load as expected.