This is a Tier 2 Blueprint / MegaStructure.
Saint Patrick's Cathedral is a decorated Neo-Gothic style Catholic cathedral church in the United States. It is the seat of the archbishop of the Roman Catholic Archdiocese of New York, and a parish church, located on the east side of Fifth Avenue between 50th and 51st Streets in midtown Manhattan, New York City, New York. It faces Rockefeller Center.[1]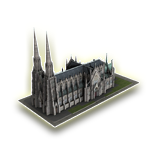 Official website:
http://www.saintpatrickscathedral.org/
---
References
Ad blocker interference detected!
Wikia is a free-to-use site that makes money from advertising. We have a modified experience for viewers using ad blockers

Wikia is not accessible if you've made further modifications. Remove the custom ad blocker rule(s) and the page will load as expected.