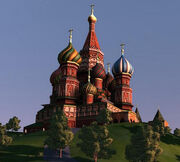 This is a Tier 2 Blueprint / MegaStructure.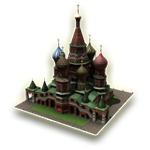 The Cathedral of Intercession of Theotokos on the Moat (Russian: Собор Покрова пресвятой Богородицы, что на Рву), popularly known as the Cathedral of Basil the Blessed, is a Russian Orthodox cathedral erected on the Red Square in Moscow in 1555–1561. Built on the order of Ivan IV of Russia to commemorate the capture of Kazan and Astrakhan, it marks the geometric center of the city and the hub of its growth since the 14th century. It was the tallest building of Moscow until the completion of the Ivan the Great Bell Tower in 1600.[1]
Website:
http://www.moscow.info/red-square/st-basils-cathedral.aspx
---
References
Ad blocker interference detected!
Wikia is a free-to-use site that makes money from advertising. We have a modified experience for viewers using ad blockers

Wikia is not accessible if you've made further modifications. Remove the custom ad blocker rule(s) and the page will load as expected.