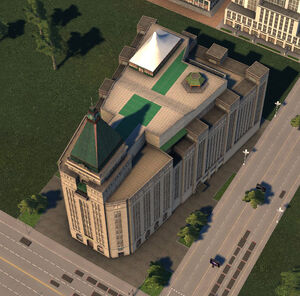 In Cities XL it is a Landmark Business hotel, providing a +5% bonus to Office production in the city. Costs 50000c - 0 m/c
The Peace Hotel (Chinese: 和平饭店) is a hotel on The Bund in Shanghai, China which overlooks the Huangpu River. The hotel today operates as two separate businesses. The North Building, built as Sassoon House, originally housed the Cathay Hotel and is today the Fairmont Peace Hotel run by Fairmont Hotel and Resorts of Canada. The South Building was built as the Palace Hotel and is today the Swatch Art Peace Hotel . The two buildings both face the Bund, but are divided by the famous Nanjing Road, arguably the busiest street in Shanghai.[1]

Official websites:
http://www.fairmont.com/peacehotel/
http://www.swatch-art-peace-hotel.com/
---
References
Ad blocker interference detected!
Wikia is a free-to-use site that makes money from advertising. We have a modified experience for viewers using ad blockers

Wikia is not accessible if you've made further modifications. Remove the custom ad blocker rule(s) and the page will load as expected.