This is a Tier 4 Blueprint / MegaStructure.
The Offshore Oil Platform must be placed on water and within an oil resource area. Only a few maps, such as the The Archipelago have oil resources offshore. Once finished, the platform produces the greatest quantity of oil per building in the game.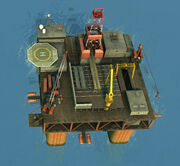 An oil platform, also referred to as an offshore platform or, somewhat incorrectly, oil rig, is a large structure with facilities to drill wells, to extract and process oil and natural gas, and to temporarily store product until it can be brought to shore for refining and marketing.
In many cases, the platform contains facilities to house the workforce as well.[1]
---
References
Ad blocker interference detected!
Wikia is a free-to-use site that makes money from advertising. We have a modified experience for viewers using ad blockers

Wikia is not accessible if you've made further modifications. Remove the custom ad blocker rule(s) and the page will load as expected.