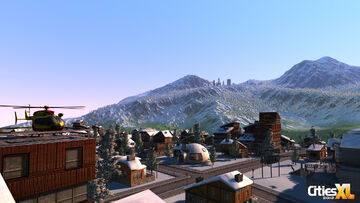 This pack was released with Cities XL 2012 . It contains most of the buildings intended for the old Ski Resort GEM .
This GEM was first revealed in advertisements even before the release of Cities XL, was unlocked and buggy in the Unlocker Mod for Cities XL 2011, and finally made it into Cities XL 2012, but with very limited functionality.
In Monte Cristo's original concept, the Ski Resort GEM would have been a mini-game, allowing the player to build a ski resort in a map with snow. If the business was successful and profitable, it would produce a lot of Holidays and bring in large tax revenues. CXL 2012 brings us almost all the buildings of the GEM, but they act as normal Residences/Shops/Hotels/Leisure buildings, like the rest of the packs.
Despite the fact that the Mountain buildings don't form a GEM, they are still one of the most spectacular and original in the game. There are several noteworthy features about them:
All of them have snow on the roof, making them perfect to put on the snowy slopes of a map
Many of them have a much smaller footprint than normal buildings, allowing you not only to fit more buildings per square meter, but also to fit them easily in the difficult mountainous terrain
There are many ski-related Mountain Buildings (complete with animations), allowing you to create at least a semblance of ski activity
There is a large selection of Leisure buildings (much larger than in other packs), suitable for a resort
The general theme of the Mountain buildings (apart of the snow on the roof), is Swiss-style triangular roofs, mostly wooden buildings, which look great on a slope. The relatively small size of individual buildings allows you to place many of them on long rows, creating a pretty unique sight.
The residence - civic buildings ratio is completely reversed in the Mountain and Beach packs, in comparison to the other ones. We have a vast selection of civic buildings: shops, supermarkets, restaurants, diverse Leisure attractions like a Night club and a Theater, an Ice ring, Snowmobile rental, and finally ski-oriented buildings like a Ski school, Ski equipment shop, Park-a-neige. We also have an exclusive Heliport and the uber Thermal Center resort, and even Health services buildings (for mountain resque)!
We can only expect that in the future someone (if not Focus Home) will bring some of the Ski GEM features back to life, and apply them to this outstanding theme pack.