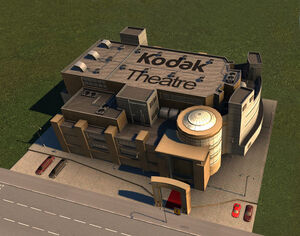 This is the famous home of the Oscar ceremonies, and a Landmark in CXL.
The Kodak Theatre is a live theatre in the Hollywood and Highland shopping mall and entertainment complex on Hollywood Boulevard and North Highland Avenue in the Hollywood district of Los Angeles. Since its opening on November 9, 2001, the theatre has been the home of the annual Academy Awards Ceremonies (The Oscars), which were first held there in March 2002, and is the first permanent home for the awards. Since 2002, the theater was also the home for American Idol.
The theatre was designed by David Rockwell of the Rockwell Group, and Theatre Projects Consultants specifically with the Oscars in mind. It has a seating capacity for up to 3,401 people. The stage is one of the largest in the United States, roughly tied with the Elliott Hall of Music at Purdue University, measuring 113 feet (34 m) wide by 60 feet (18 m) deep. The theatre was sponsored by the Eastman Kodak company, which paid $75 million to have its name associated with the building. It is owned by CIM Group.[1]
Official website:
---
References
Ad blocker interference detected!
Wikia is a free-to-use site that makes money from advertising. We have a modified experience for viewers using ad blockers

Wikia is not accessible if you've made further modifications. Remove the custom ad blocker rule(s) and the page will load as expected.