Viewer Setup in 3DS Max
This article explains the steps to take in order to have the viewer available directly in 3ds Max
Setup
Firstly, close 3ds Max and install the Artist Tool Suite. Then launch 3ds Max.
In the Customize menu, select Customize User Interface.
Select the Toolbars tab in the window that has just opened.
Select the MonteCristo category in the Category Combo box.
The ViewerQuickLaunch appears in the action list below.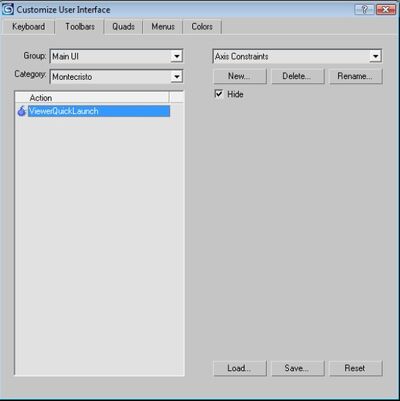 Drag it from the list and drop it on one of the visible toolbars.
Now you can launch a visualisation of the current scene in the viewer by pressing this button.
Export and Visualisation
All Lods must not be hidden
All materials must be checked for buildings, vehicles, characters and furniture.
For now only the building shader is working (but you can test furniture, vehicles and characters with the building shader)
How to set up material shader:

Open the Material Editor in 3ds Max
Find the panel Monte Cristo Parameters and follow this setup: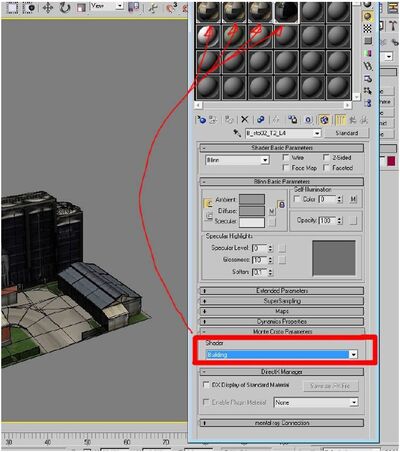 When Lods are not hidden and the materials shader is ok you then can:
Export your asset (.SG file) and open it with the new viewer
Use the new button created earlier to export the object in a new viewer
File extensions are the same in the old viewer
Tips
Press ALT to move the mouse slowly
You can see lods:

By using zooming in and zooming out
By clicking on Auto (to change it to manual) and adjust the slider in the bottom left corner of the viewer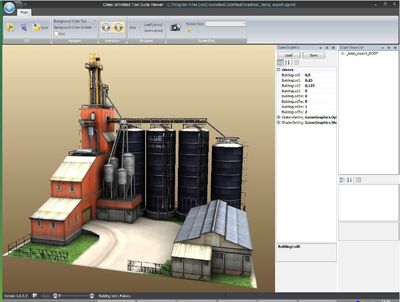 Ad blocker interference detected!
Wikia is a free-to-use site that makes money from advertising. We have a modified experience for viewers using ad blockers

Wikia is not accessible if you've made further modifications. Remove the custom ad blocker rule(s) and the page will load as expected.