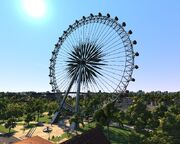 This is a Tier 2 Blueprint MegaStructure.
The Beijing Great Wheel is a 208 metres (682 ft) tall giant Ferris wheel project. Located in eastern Beijing's Chaoyang Park, one of the 2008 Summer Olympics venues, its planned height exceeds that of the current world's tallest Ferris wheel record holder, the 165 m (541 ft) Singapore Flyer.
The Great Wheel Corporation originally forecast the wheel would start turning on August 1, 2008, one week in advance of the Beijing-hosted 2008 Summer Olympics.[1] In 2007, Chinese state media reported that construction had begun, with completion delayed until 2009 due to design issues. Completion was subsequently rescheduled for 2010.
On 3 May 2010 it was reported that Great Beijing Wheel Co., the company set up to build the wheel, had gone into receivership after breaching the conditions of a loan, with Ferrier Hodgson and Zolfo Cooper appointed as administrative receivers. Construction work has been stopped since then.[1]
---

The London Eye is a 135-metre (443 ft) tall giant Ferris wheel situated on the banks of the River Thames, in London, England. It is the tallest Ferris wheel in Europe, and the most popular paid tourist attraction in the United Kingdom, visited by over 3.5 million people annually. When erected in 1999, it was the tallest Ferris wheel in the world, until surpassed first by the 160 m (520 ft) Star of Nanchang in 2006, and then the 165 m (541 ft) Singapore Flyer in 2008. It is still described by its operators as "the world's tallest cantilevered observation wheel" (as the wheel is supported by an A-frame on one side only, unlike the Nanchang and Singapore wheels). [2]
---
References
Ad blocker interference detected!
Wikia is a free-to-use site that makes money from advertising. We have a modified experience for viewers using ad blockers

Wikia is not accessible if you've made further modifications. Remove the custom ad blocker rule(s) and the page will load as expected.