Fuji Television Headquarters

Unlocks at

750 000 population

Costs

11680 m/c 0

Production

Benefits from

Effects

+1% Leisure satisfaction
+1% Citizen satisfaction

Workers

Skilled: Low
Executives: Medium
Elites: Medium

This is a Landmark, which also functions as an XL Office building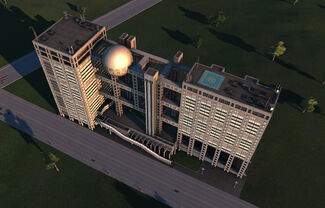 Fuji Television Network, Inc. (Kabushiki Gaisha Fuji Terebijon) is a Japanese television station based in Daiba, Minato, Tokyo, Japan, also known as Fuji TV (Fuji Terebi) or CX, based on the station's callsign "JOCX-DTV". It is the flagship station of the Fuji News Network (FNN) and the Fuji Network System (FNS).
Fuji Television also operates three premium television stations, known as "Fuji TV One", "Fuji TV Two", and "Fuji TV Next", all available in High-definition. It is owned by Fuji Media Holdings, Inc., the holding company of the Fujisankei Communications Group (Fuji Sankei Gurupu). The Headquarters building was designed by Kenzo Tange, and it's renowned for its unique architecture.[1]

Official site:
http://www.fujimediahd.co.jp/en/
---
References
Ad blocker interference detected!
Wikia is a free-to-use site that makes money from advertising. We have a modified experience for viewers using ad blockers

Wikia is not accessible if you've made further modifications. Remove the custom ad blocker rule(s) and the page will load as expected.