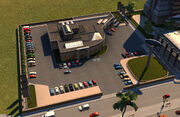 The Ford Dealership is a Retail store extra only found in the CitiesXL 2012 expansion.
It is found under the Retail Exceptional menu.
Upon zooming into the dealership at ground level, it can be seen to include the Ford symbols and various Ford cars on the lot including the Kuga, Mondeo, Fiesta, Transit van, S-MAX and Ka, all European models (except the Fiesta which was recently re-released in the US). Some of the American models include the Fusion, Focus Convertible, and Focus RS. Each of these models can be distinguished by the front license plate of the cars with their names. The license plates of other vehicles in the game bear some variation of the generic CXL-000 plates.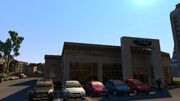 After the dealership is built, at the closest ground level zoom, the various models of Ford cars can be found driving the streets. Many of the larger roads and avenues that have advertising include Ford car advertisements.
Ad blocker interference detected!
Wikia is a free-to-use site that makes money from advertising. We have a modified experience for viewers using ad blockers

Wikia is not accessible if you've made further modifications. Remove the custom ad blocker rule(s) and the page will load as expected.