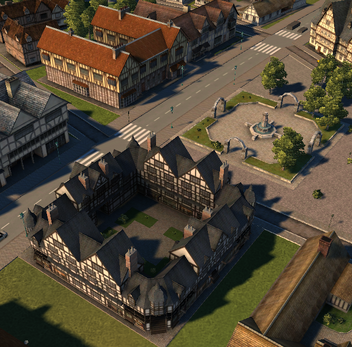 This was the first content pack, released at the time of the Planet Offer under the name 'Old England pack'. It was later renamed when it was included in Cities XL 2011.
The European pack concentrates on medieval European structures, mainly from smaller towns. The basic feature of its buildings is the timber framework, crisscrossing either white plaster walls, or brownish-colored woodwork walls. There are no buildings taller than two or three stories, with many having internal courtyards. A zigzag rooftop is also a common feature.
The total feeling is of a very provincial place, with cozy small streets, hidden bistros, and this general Old World feeling which tourists love so much. The civic buildings contained are couple of restaurants and markets (Shops), a Holiday Hotel, and a very old medieval church, which is a Landmark .
The pack also features a small road with cobblestone textures, a decorative square (with a Landmark bonus), and a plaza. The European pack also contains the largest selection of Blueprints, most of them of famous European cathedrals, like Notre Dame de Paris, or palaces, like Buckingham Palace and Neuschwanstein Castle .
Ad blocker interference detected!
Wikia is a free-to-use site that makes money from advertising. We have a modified experience for viewers using ad blockers

Wikia is not accessible if you've made further modifications. Remove the custom ad blocker rule(s) and the page will load as expected.