This is a Tier 3 Blueprint / MegaStructure.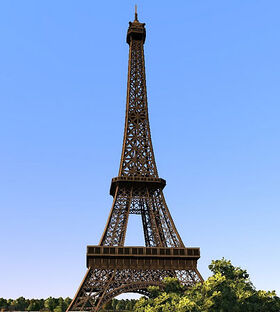 The Eiffel Tower (French: La Tour Eiffel, [tuʁ ɛfɛl], nickname La dame de fer, the iron lady) is a puddle iron lattice tower located on the Champ de Mars in Paris. Built in 1889, it has become both a global icon of France and one of the most recognizable structures in the world. The tower is the tallest building in Paris and the most-visited paid monument in the world; millions of people ascend it every year. Named after its designer, engineer Gustave Eiffel, the tower was built as the entrance arch to the 1889 World's Fair.[1]
Official Website:
---
References
Ad blocker interference detected!
Wikia is a free-to-use site that makes money from advertising. We have a modified experience for viewers using ad blockers

Wikia is not accessible if you've made further modifications. Remove the custom ad blocker rule(s) and the page will load as expected.