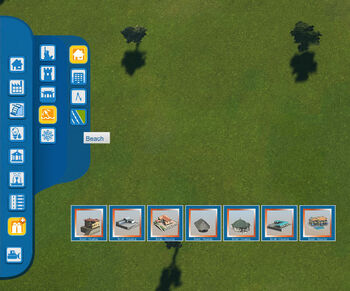 Content Packs are selections of themed features such as Residences, Buildings, Blueprints and Decorations designed to allow creation of interesting, theme-oriented neighborhoods. Each pack concentrates on a specific style, be it a regional one like the European or Asian, or related to a specific activity (like Beach Buildings and Mountain Buildings). Each Theme can be found under the Packs Menu.
History
Monte Cristo first intended the Packs to be Planet Offer - exclusive content, which was to be released with time, enriching the game. The first content pack released was the European (under the name Old England pack), with the Asian pack announced shortly before the end of the Planet Offer.
After Focus Home Interactive took over, they released three content packs as integral part of Cities XL 2011 - European, Asian and Americas. They also distributed the Blueprints among the three packs. With CXL 2012 two more packs were added - Mountain and Beach.
Content
NOTE: There are currently some problems and bugs with some buildings in some Packs, especially the Beach and Mountain ones. Focus is preparing a patch to address these issues.
There are 5 separate packs currently in the game:
Each pack is intended as the means to create original and realistically-looking neighborhoods, or quarters in a certain style. The packs contain:
Ad blocker interference detected!
Wikia is a free-to-use site that makes money from advertising. We have a modified experience for viewers using ad blockers

Wikia is not accessible if you've made further modifications. Remove the custom ad blocker rule(s) and the page will load as expected.