This is a Tier 2 Blueprint / MegaStructure.
The Colossus of Rhodes was a statue of the Greek Titan Helios, erected in the city of Rhodes on the Greek island of Rhodes by Chares of Lindos between 292 and 280 BC. It is considered one of the Seven Wonders of the Ancient World. It was constructed to celebrate Rhodes' victory over the ruler of Cyprus, Antigonus I Monophthalmus, who unsuccessfully besieged Rhodes in 305 BC. Before its destruction, the Colossus of Rhodes stood over 30 meters (107 ft) high, making it one of the tallest statues of the ancient world.[1]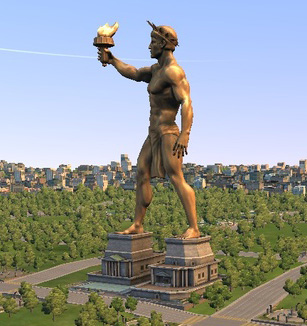 ---
References
---
References
Ad blocker interference detected!
Wikia is a free-to-use site that makes money from advertising. We have a modified experience for viewers using ad blockers

Wikia is not accessible if you've made further modifications. Remove the custom ad blocker rule(s) and the page will load as expected.