This is a Tier 2 Blueprint / MegaStructure.
The Colosseum, or the Coliseum, originally the Flavian Amphitheatre (Latin: Amphitheatrum Flavium, Italian Anfiteatro Flavio or Colosseo), is an elliptical amphitheatre in the centre of the city of Rome, Italy, the largest ever built in the Roman Empire. It is considered one of the greatest works of Roman architecture and Roman engineering.[1]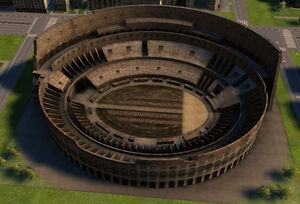 ---
References
Ad blocker interference detected!
Wikia is a free-to-use site that makes money from advertising. We have a modified experience for viewers using ad blockers

Wikia is not accessible if you've made further modifications. Remove the custom ad blocker rule(s) and the page will load as expected.