This is a Tier 3 Blueprint / MegaStructure.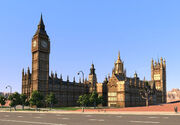 Big Ben is the nickname for the great bell of the clock at the north end of the Palace of Westminster in London (the Houses of UK's Parliament), and is often extended to refer to the clock or the clock tower as well. Big Ben is the largest four-faced chiming clock and the third-tallest free-standing clock tower in the world. It celebrated its 150th anniversary in May 2009 (the clock itself first ticking on 31 May), during which celebratory events took place. Big Ben Clock Tower alone was a Landmark in City Life: World Edition but the Palace of Westminster is much more impressive.[1]
Official website:
http://www.parliament.uk/about/living-heritage/building/palace/big-ben/
---
References
Ad blocker interference detected!
Wikia is a free-to-use site that makes money from advertising. We have a modified experience for viewers using ad blockers

Wikia is not accessible if you've made further modifications. Remove the custom ad blocker rule(s) and the page will load as expected.