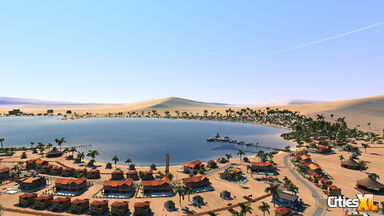 The Beach pack was introduced with Cities XL 2012 . It is comprised of the buildings that were to form the Beach GEM.
According to Monte Cristo's original plans, the Beach GEM was to be the second big content addition to Cities XL (with the Ski GEM being the first), and it would allow the player to create and run a beach resort. Unfortunately, these plans were put on a permanent hold with Monte Cristo's bankruptcy, and Focus Home decided to release the buildings, with altered functionality, in their latest expansion, as the Beach pack.
The theme of the pack is, of course, the beach activities. Most of the Beach Buildings included fit right onto a sandy landscape, bathed in sun and the gentle waves of the sea. The colors are vivid, the architecture - not very serious. There is a great selection of Leisure activities, just like in the Mountain pack : a selection of pools (included a whole Aqua park), beach volley, tenis court, minigolf... There is also a rich selection of beach bars and other Beach Buildings with Cuban-style straw rooftops. And, of course, shops, hotels and nice residences for all classes, some of them quite large.
Just as in the Mountain pack, we have some Beach Buildings with much smaller footprints, which create the possibility of placing many structures in little space.
The Beach pack goes well with buildings from the American pack. It even contains Peer entrances, allowing an easy connection between the pedestrian roads on stilts and normal roads.
NOTE: Unfortunately, there are still some problems with the content of both the Beach and the Mountain pack. For example, the residences don't fill with citizens, and the peer entrances don't actually work. Focus Home is working on ironing out these bugs with their next patch.
Ad blocker interference detected!
Wikia is a free-to-use site that makes money from advertising. We have a modified experience for viewers using ad blockers

Wikia is not accessible if you've made further modifications. Remove the custom ad blocker rule(s) and the page will load as expected.